---
Close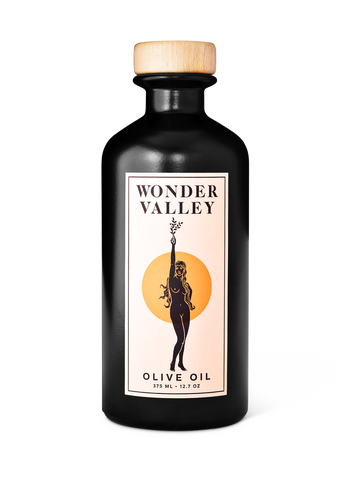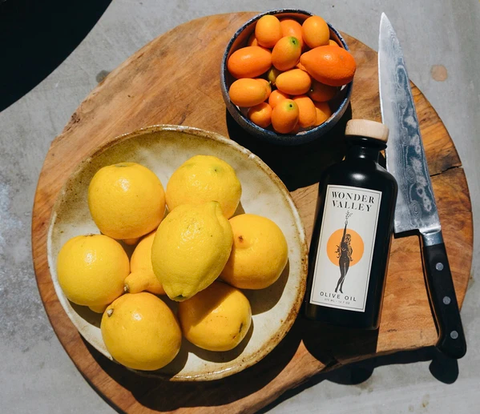 Olive Oil
Energy
Gift Ideas
Home
Immunity
EH NOTE: Alison & Jay of Wonder Valley have stellar taste and little time for BS. We've known them for years. They cook top-notch meals, hence the reason for starting a business built around this golden liquid. Is this olive oil pricier than the mass-manufactured non-sense from your local chain store? Yes. But is it also worth every damn drop, abso-f'in-lutely. Enjoy :)
----------------------------------------
Wonder Valley Olive Oil elevates any meal through its bright, herbaceous, peppery flavor and delivers a delicious dose of polyphenols, the powerful antioxidant associated with longevity of life.
The matte black UV coated bottle protects the integrity of the oil and extends the shelf life. This 375 mL bottle is 100% plastic free - made of glass, cork, wood and paper.
Ingredients

Their 2020 harvest oil is a blend of Leccino, Frantoio, Pendolino, Coratino and Arbequina olives harvested from the groves in Lake County, CA and certified Extra Virgin grade by the California Olive Oil Council. The olives are hand-picked young, yielding a greener oil, longer shelf life, and higher concentration of polyphenols. Best used within 18 months of the harvest date. Harvested November 2020
Manufacturer/brand info

Wonder Valley's olive oil is hand-harvested and expertly milled from their groves in Northern California. Wonder Valley olive oil has become the foundation of their desert lifestyle, enriching their recipes and nourishing their skin. Wonder Valley is now for you too, and your far out home.
Usage

Listen, folks, it's good olive oil. And you're some form of a grown-up who has used olive oil before. So, use it as often or as sparingly as you'd like. Except, you might use it more often than sparingly.