Close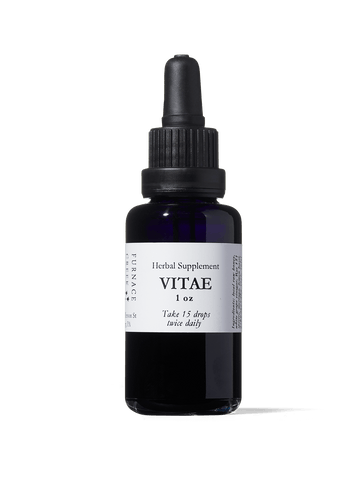 Vitae Tonic Tincture
Adaptogenic
Energy
Ingestible
Furnace Creek's Systems Tonics are created by extracting the herbs with a combination of honey, vinegar, water, and alcohol to achieve the desired profile of plant compounds. 
Here the plant juice is preserved in the extract medium and the ingredients combine with a pleasing flavor. All herbs are grown using organic practices on our farm in Oley, Pennsylvania. This tonic is Moringa based.  The herb is also known as the tree of life. It is designed to be just that, life sustaining.

30ml bottle
Ingredients

ashwagandha root, elecampane root, local raw honey, local white grape vinegar, rye 151 spirits (Lancaster, PA), water, cold pressed juices of tulsi, spilanthes, and sage.
Manufacturer/brand info

Furnace Creek Farm is a small family farm run by Grace Galanti in Oley, PA. Grace is a dear friend of EH. We met years ago at Union Square Market in New York City. Her love of plants began as a child during botany walks through a local apple orchard and her parents' farms. Nature and the outdoors have continued to inspire her ever since. She is an herbalist, skincare specialist, mother, and stargazer. Grace might not realize it because she works 100 hours a week [running a farm is HARD], but she is a wonderful storyteller as well. Like the time she told us about her mother who outran the cops in her Mustang fastback back to the farm. When the cop reached the farm, Grace's mom shouted, "you can't get me now." The cop responded, "Ma'm, just please slow it down next time." As she finished the story, she made sure to shrug her shoulders and says, "it was the sixties" :) We love working with Grace. Maybe you'll come and visit it with us sometime!
Usage

Take 15 drops twice daily (one full dropper). Shake well before use. Use within 2 years for optimal herbal potency.