---
Close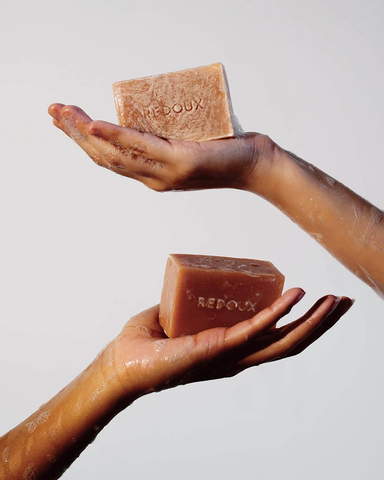 Turmeric Botanical Soap Bar
Best Sellers
Gift Ideas
Skin
Stress & Anxiety
Topical
A brightening, detox cleansing bar fortified with turmeric and rose clay to naturally purify the skin.  It has a buoyant, high-density lather rich with plant based oils, such as shea, castor, and safflower, deeply cleanses without leaving the skin feeling stripped or dry.
Scented with an essential oil blend of bergamot, geranium, and ginger--it smells like balmy night, joyful mischief and everything we love about summer time.
Ingredients

Coconut, Olive, Palm, Castor Oils – An emollient blend of oils to soften and retain moisture in the skin. Safflower Oil – Natural soothing properties and high linoleic acid content, which helps minimize the chance of getting clogged pores. Shea Butter – Rich in texture, rich in antioxidants, rich in fatty acids. An overall timeless, moisturizing powerhouse. Turmeric – Brightens and balances with powerful antioxidants. Rose Clay – Gently exfoliates without compromising hydration, a champion to those with sensitive skin.
Manufacturer/brand info

Redoux is a line of sophisticated scents and vegan skincare for the modern nostalgic. It is the brainchild of Asia and Alejandro. Two friends with a common love for skincare and new experiences. They believe Scent is a powerful catalyst. It can be infused to add a new dimension to make an unforgettable experience. It can be composed to create unique moments. And it can perpetually be harnessed to evoke emotions.
Usage

Lather with warm water between hands, and apply generously. Rinse off. Bask in your glory.