---
Close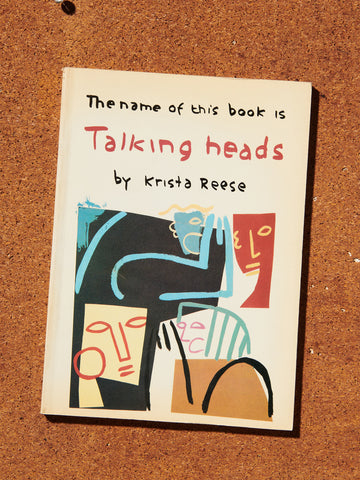 The name of this book is Talking Heads
Other Oddities

one of one
1 of 1 offering.
Release Date: February 1983
Author: Krista Reese128 Pages
This colorful book traces the history of this popular new wave band, discusses each of their recordings, and explains how their music has evolved. The book came out four months before the critically acclaimed album Speaking in Tongues which shared the band's hit "Burning Down the House". It was a f!cking good album, as you already likely know.

This book does have slight bending on the exterior cover.
No Returns On Oddities Items. 
More information

In a 1983 interview, David Byrne stated in an interview "...My parents would tell me, 'look at the way these Americans do things. Isn't that a little bit odd'...they always saw things as foreigners. I think they kind of taught me to see things that way as well. It's nice though; I think it's in a way a slight advantage. "

Yes, David, you certainly have an advantage of being an oddball, it is why we love you.
Dang, looks like we're all out, sign up here if you want us to restock and be notified when more come in.