---
Close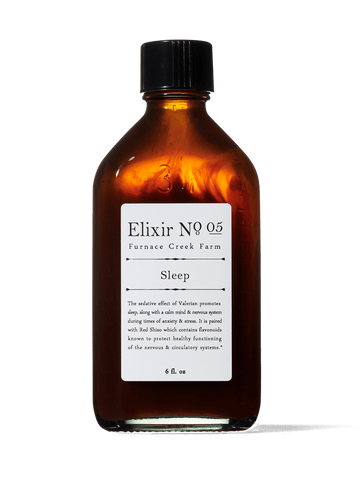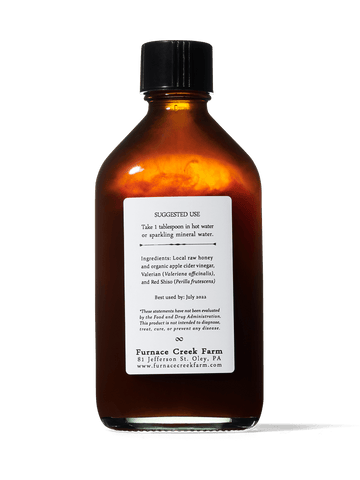 Sleep Elixir
Adaptogenic
Best Sellers
Elixirs
Ingestible
Sleep
This blend contains valerian as the active ingredient and red shiso for flavor. It is taken a half-hour before bed as tea or in sparkling water. It also works for daytime chill out, take one to two teaspoons. The shiso adds deep notes of red wine but also supports the immune system (rosmarinic acid is an immunomodulator), the circulatory system (flavonoids are beneficial for the vessels), and aids digestion (bitter principle). It is Furnace Creek's most popular elixir at market right now.
6 oz bottle
Ingredients

Local raw honey and red grape vinegar, valerian, and red shiso
Manufacturer/brand info

Furnace Creek Farm is a small family farm run by Grace Galanti in Oley, PA. Grace is a dear friend of EH. We met years ago at Union Square Market in New York City. Her love of plants began as a child during botany walks through a local apple orchard and her parents' farms. Nature and the outdoors have continued to inspire her ever since. She is an herbalist, skincare specialist, mother, and stargazer. Grace might not realize it because she works 100 hours a week [running a farm is HARD], but she is a wonderful storyteller as well. Like the time she told us about her mother who outran the cops in her Mustang fastback back to the farm. When the cop reached the farm, Grace's mom shouted, "you can't get me now." The cop responded, "Ma'm, just please slow it down next time." As she finished the story, she made sure to shrug her shoulders and says, "it was the sixties" :) We love working with Grace. Maybe you'll come and visit it with us sometime!
Usage

Take 1 tablespoon in hot water or sparkling mineral water.