---
Close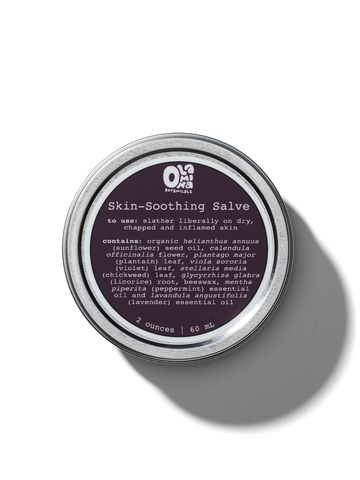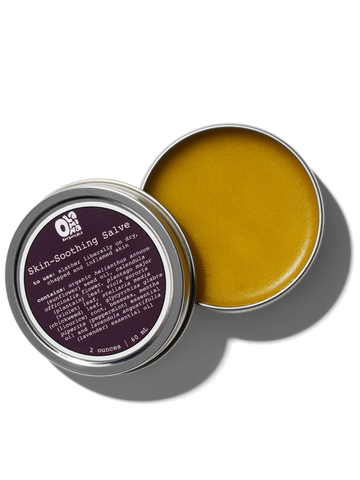 Skin-Soothing Salve
Best Sellers
First Aid
Skin
Topical
Nourish dry, inflamed and chapped skin with Olamina Botanical's beautiful salve, a topical preparation made to keep your epidermis supple and soothed.

They harvested the Plantain, Chickweed, and Violet leaf in this formula from East Harlem community gardens and infused them in a base of organic Hudson Valley sunflower seed oil, along with organic Licorice root and Calendula flower, reputed anti-inflammatory herbs. Beeswax from an apiary in the Fingerlakes adds body and a soft honey aroma.

Our gardener friends rave about this formula. It's fantastic for people who work outdoors and with their hands. Beloveds have dabbed it on cuts and seen remarkably accelerated skin regeneration. Smooth it on your hands after they've been washed to call in a little care, from our bioregion to yours.

Dry skin can kick rocks!

Ingredients

Sunflower Seed Oil infused with plantain leaf, violet leaf, chickweed, calendula flower, and licorice root. Beeswax, lavender essential oil, and peppermint essential oil.
Manufacturer/brand info

Olamina Botanicals is a Black femme-owned apothecary crafting tinctures, teas, syrups and salves in unceded Lenni Lenape territory. Their mission is to help people ground into their own innate power as healers, draw strength from the plant world—and act on behalf of the planet. With goods that are made by hand using local, foraged and organic materials, Olamina is guided by principles of ecological restoration. Their blends are curated with what is abundant and in season.
Usage

Warm a nickle-sized amount in palm of hands. Slather on dry, inflamed and ashen skin