---
Close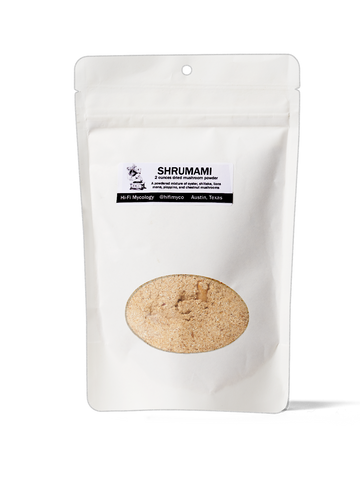 shrumami powder
Adaptogenic
Dried & Powder
Immunity
Ingestible
A blend of all Hifi's mushrooms in one bag. A perfect way to top off any savory dish with a shroomy spice. From steeping in tea to adding to a wholesome broth, this powder can be used in many ways for its nutritious, deliciousness.
Ingredients

Oyster Mushroom, Lions Mane Mushroom, Shiitake Mushroom, Pioppinos, and Chestnut Mushrooms
Manufacturer/brand info

Hi-Fi Mycology is the first local, urban Mushroom farm in Austin. The word Hifi represents Hypha which is the branching filaments which make up the mycelium of a fungus. That is a perfect metaphor of how Hifi started up! An idea that is branching into a full blown operation with the intention to grow in collaboration with the right businesses. Hifi is unique because we do everything in house from spawning, inoculating, incubating, fruiting and harvesting.
Usage

Add teaspoon of Shrumami powder per cup of water. Add salt and other savory seasonings to taste! One year unopened or two months after opening.