Close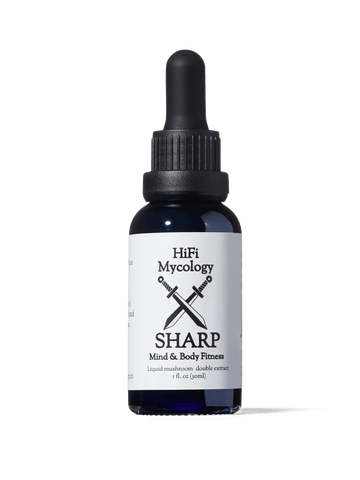 sharp mushroom tincture
Energy
Focus & Clarity
Ingestible
Hi-Fi's bespoke blend for mental clarity and physical fitness. A 1:1 blend of double extracted Lions Mane and Cordyceps fruit bodies; this combo is the perfect mind/body enhancement. Lions Mane for the brain; enhancing memory and focus. Cordyceps for the body: increasing available ATP and helping to remove lactic acid. Whether it's a hard day of work ahead or you need to be on top of your game, Stay Sharp.

Ingredients

Lions Mane and Cordyceps. Hifi's tinctures are produced with top quality ingredients. They are Double extracted with one fraction being a 99% ethanol extraction and another fraction being a water decoction. They are blended to bring the ethanol content to 33%. We use a fresh batch of dried material for each fraction to maximize the beneficial compounds in each tincture.
Manufacturer/brand info

Hi-Fi Mycology is the first local, urban Mushroom farm in Austin. The word Hifi represents Hypha which is the branching filaments which make up the mycelium of a fungus. That is a perfect metaphor of how Hifi started up! An idea that is branching into a full blown operation with the intention to grow in collaboration with the right businesses. Hifi is unique because we do everything in house from spawning, inoculating, incubating, fruiting and harvesting.
Usage

5 drops to a whole dropper-full a day. For a more extreme treatment HIFi recommends 3 doses a day.