---
Close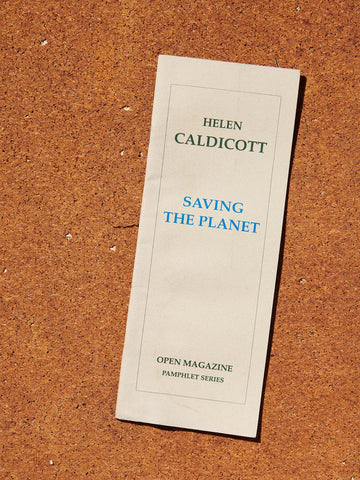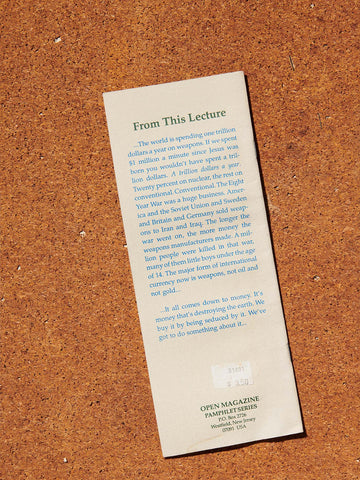 SAVING THE PLANET - HELEN CALDICOTT
Other Oddities

one of one
1 of 1 offering. Publisher: OPEN MAGAZINE PAMPHLET SERIES Year: 1991
She sort of leaves it all on the table here ... "From This Lecture" ...The world is spending one trillion dollars a year on weapons. If we spent $1 million a minute since Jesus was born you wouldn't have spent a trillion dollars. A trillion dollars a year.
Twenty percent on nuclear, the rest on conventional. Conventional. The Eight Year War was a huge business. America and the Soviet Union and Sweden and Britain and Germany sold weapons to Iran and Iraq. ...It all comes down to money. It's money that's destroying the earth. We buy it by being seduced by it. We've got to something about it..." - Helen Caldicott
No Returns On Oddities Items. 
More information

"...The longer the war went on, the more money the weapons manufacturers made. A million people were killed in that war, many of them little boys under the age of 14. The major form of international currency now is weapons, not oil and not gold..." Helen Caldicott FROM THE PUBLISHER - From This Lecture: '. It's a pretense to think that the government is run of the people, by the people and for the people. Now therefore you need another revolution. And that doesn't mean sitting on your bottoms writing letters. It's doesn't mean lobbying Senator Hatfield and whoever else. It means actually getting out there and putting your bodies on the line like Gandhi did. It means the equivalent of salt marches. It means taking over the Department of Energy in Washington and staying there, like the students did in the 1960s, taking over the administrations. It means taking over the Pentagon, getting in there. It's your Pentagon. Take it over.