---
Close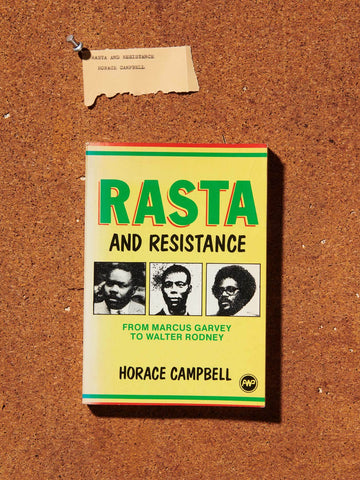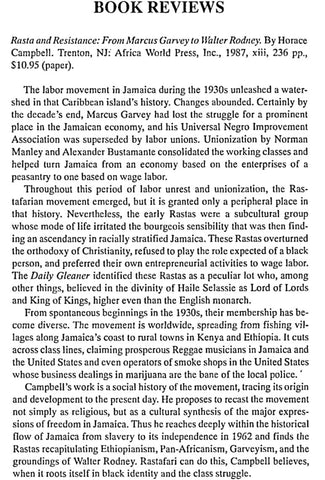 RASTA AND RESISTANCE
Other Oddities

one of one
1 of 1 offering. Release Date: 1987
Preface: "Absence of a political enquiry into the Rastafari of the Caribbean has always been an uncomfortable gap in the record of the Caribbean revolution.  Now Horace Campbell has made a big step towards the filling of that gap..."
Author: Horace Campbell - Found in the archives is a clear edge version of this exploration into the study of the Rastafarian Movement by Horance Campbell, writer, teacher and political activist who has taught in Africa, the Caribbean, Britain, and North America. 
No Returns On Oddities Items. 
More information

"This is not to suggest that Caribbean writers and thinkers (we should not confuse the two groups) have not done much investigation of the Rastafari way of life with all the clarity and depth which their areas of investigation permitted them; some have also ventured into the political dominion…

..Campbell has many of the qualifications for the task he has undertaken. He has been struggling for some years to apply the scientific theory of society to the reality of African and Caribbean politics, and in the process has avoided the creation of false gods. When I first met him in Trinago in 1976, he said that he was a Marxist and that his mentors were Rodney, Fanon and Cabral. Readers of this work should welcome this attitude, because it is a clear indication of hostility to all forms of political and cultural dependence.

The formal emancipation of the African slaves in the Caribbean took place late in the first half of the 18th century. From that time there began a totalitarian assault on the African psyche, with similar aims to those of the various bondages imposed during the period of slavery. Some of the education was necessary to fit the African-Caribbean masses into the peculiar level of technology and the mode of production then ruling in the region.


The ignorance of the ruling classes, and their need for social control, produced a culture that filled the masses with self-contempt (Martin Carter). The splitting up of the free populations into classes more sharply divided than those of the slave period, and the introduction of immigrant labour from Asia, Africa and Europe robbed the masses in general of that self-confidence which is necessary before a people takes its destiny into its own hands. This is why the Caribbean has never resounded with anything similar to "Asia for the Asians" and "Africa for the Africans", regardless of the short-term nature of that nationalism." - pulled from the books preface