---
Close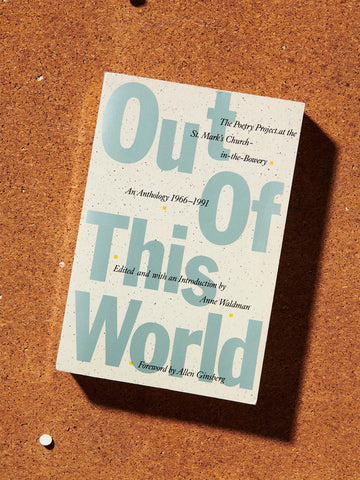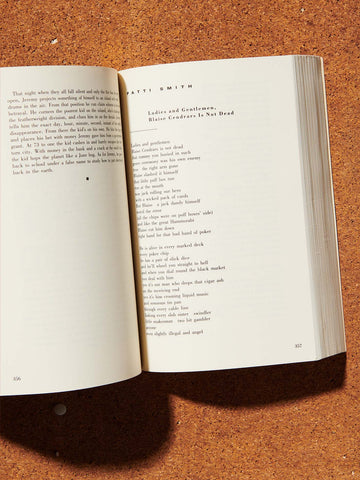 Out Of This World - The Poetry Project at the St. Marks Church
Other Oddities

one of one
1 of 1 offering.
Release Date: 1991  Published by Three Rivers Press
Forward by allen ginsberg
This very thick book features legends of the New York poet's scene that meandered their way in, out, and around the St. Mark's Church in the Bowery. Little fact - on February 10, 1971 - Patti Smith joined on stage with Lenny Kaye gave her first performance. We have a copy of it on cd if you want it. Seriously, send us an email, and we'll mail you the cd. If it works is another question.  But, maybe we'll send you something else instead :) 
No Returns On Oddities Items. 
More information

The internet is a wild place filled with righteous rewards. "Since 1966, The Poetry Project has expanded access to literature, education, and opportunities for sharing one's creative work in a counter-hierarchical, radically open space and community. Premised on the vision that cultural action at the local level can inspire broader shifts in public consciousness, The Project is committed to developing and collaborating on replicable program models that challenge persistent social narratives, especially through the verbal reframing made possible in poetry. We do this work through a combination of live readings, performances, lectures, events, and workshops, in addition to literary and critical publications and an emerging writers program. The Poetry Project is based at St. Mark's Church-in-the-Bowery, a vibrant artistic and community space which includes the St. Mark's Church congregation, Danspace Project, and New York Theatre Ballet." -poetry project "The Poetry Project at St. Mark's Church in-the-Bowery was founded in the summer of 1966 as a direct successor to, and continuation of, the various coffeehouse reading series that had flourished on the Lower East Side since 1960. The first of these, at the Tenth Street Coffeehouse on the gallery block between Third and Fourth Avenues, moved to Les Deux Mégots on East Seventh Street in 1962 (both establishments were co-owned by Mickey Ruskin, who would later open Max's Kansas City); from March 1963, readings were held at Moe and Cindy Margules's Café Le Metro at 149 Second Avenue, where the 13th Step sports bar is now." - Miles Champion
Dang, looks like we're all out, sign up here if you want us to restock and be notified when more come in.