---
Close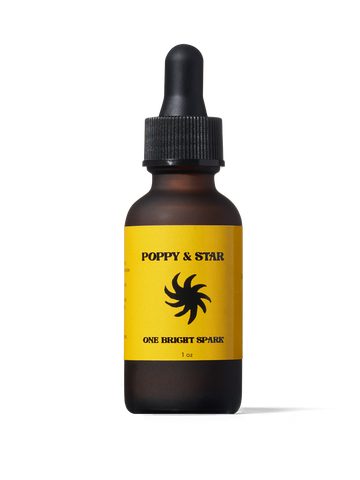 One Bright Spark
Energy
Focus & Clarity
Ingestible
An elixir for brain power Made with the Intention to nourish our cognitive function, while boosting our brains to operate at their best from day to day. Including Lion's Mane Mushroom whose bio active compounds aid in neurogenesis, the process by which neurons are produced by neural stem cells. We can give you minds the spark it needs to keep our ideas sharp and days brighter.
1 oz // 30 ml   -  100% Organic . Ethically sourced . Conjured in ceremony.

Ingredients

Chamomile, Lavender, Milky Oats, Motherwort, Tulsi Flower Essence, Grain Alcohol, Glycerin.
Manufacturer/brand info

First generation and daughter of two immigrants of Cape Verdean and Portuguese descent, Poppy & Star is a one womxn operation making small batch medicine with bioregional resources on Lenapehoking land.
Usage

two year shelf life when stored properly and kept out of direct sunlight. all products should be stored in a cool dry place. 3-15 drops up to 3x a day // what ever feels divine