---
Close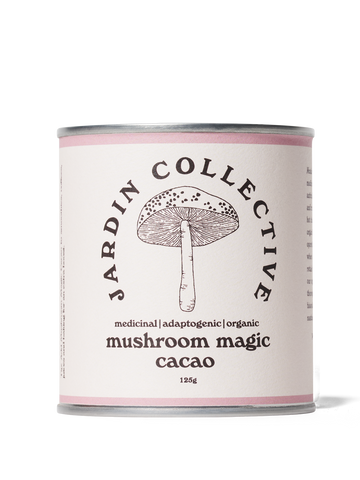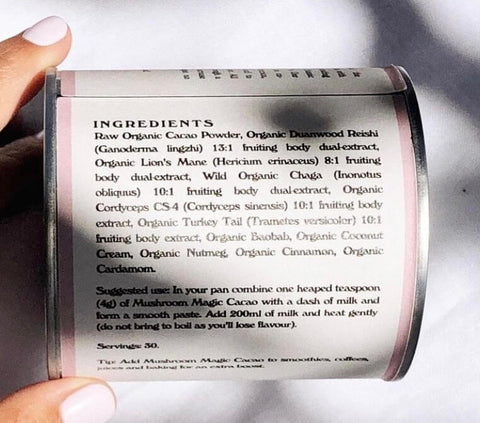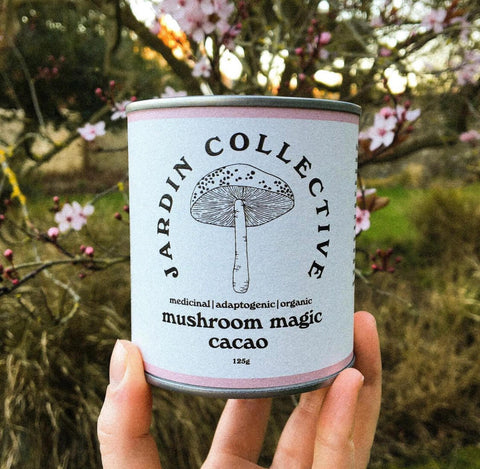 mushroom magic cacao
Adaptogenic
Dried & Powder
Energy
For Winter
Ingestible
EH Notes: This powder gave us this crazy natural morning energy boost. Highly recommend for those avoiding coffee. Charlotte the owner of Jardin, also manages a blues/jazz act across the pond outside London. We think that's rad. You can listen to some solid tunes here - music. 
----------------------------------------
Mushroom Magic Cacao combines the medicinal powers of five super mushroom extracts with antioxidant-rich raw cacao for an invigorating and creamy elixir that hits the spot like a classic hot chocolate, just without the sugar crash.
125g of powder  |  30 servings
Proudly organic and ethically sourced. 100% recyclable packaging.
Ingredients

Raw Organic Cacao Powder, Organic Duanwood Reishi (Ganoderma lingzhi) 13:1 fruiting body dual-extract, Organic Lion's Mane (Hericium erinaceus) 8:1 fruiting body dual-extract, Wild Organic Chaga (Inonotus obliquus) 10:1 fruiting body dual-extract, Organic Cordyceps CS-4 (Cordyceps sinensis) 10:1 fruiting body extract, Organic Turkey Tail (Trametes versicolor) 10:1 fruiting body extract, Organic Baobab, Organic Coconut Cream, Organic Nutmeg, Organic Cinnamon, Organic Cardamom.
Manufacturer/brand info

Jardin Collective are a medicinal mushroom based line of functional foods, supplements and skincare who aim to bring magic to your everyday routine and self care rituals. They are passionate about creating nutritious, delicious and invigorating blends which boost cognitive function and enhance overall wellbeing.
Usage

Suggested use: In your pan combine one heaped teaspoon (4g) of Mushroom Magic Cacao with a dash of milk and form a smooth paste. Add 200ml of milk and heat gently (do not bring to boil as you'll lose flavour).