---
Close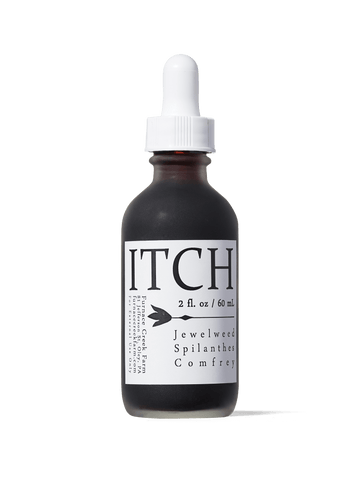 ITCH Topical
ITCH is a topical treatment from Furnace Creek Farm for skin irritations. It can be used for bug bites, poison ivy, rashes, and the occasional pimple that won't go away. In tincture form, the juice of herbs comfrey and jewelweed allow skin repair and balance the drying effect of alcohol that helps pull the herbs into deeper layers of the skin. It also contains spilanthes for cooling and numbing irritation.
Furnace Creek Farm designed this product for farmers' market-goers coming out of Prospect Park in Brooklyn with various skin itches and especially for their kiddos in strollers. It really works, relief on the spot!

60ml bottle
Ingredients

alcohol, water, comfrey, jewelweed, and spilanthes
Manufacturer/brand info

Furnace Creek Farm is a small family farm run by Grace Galanti in Oley, PA. Grace is a dear friend of EH. We met years ago at Union Square Market in New York City. Her love of plants began as a child during botany walks through a local apple orchard and her parents' farms. Nature and the outdoors have continued to inspire her ever since. She is an herbalist, skincare specialist, mother, and stargazer. Grace might not realize it because she works 100 hours a week [running a farm is HARD], but she is a wonderful storyteller as well. Like the time she told us about her mother who outran the cops in her Mustang fastback back to the farm. When the cop reached the farm, Grace's mom shouted, "you can't get me now." The cop responded, "Ma'm, just please slow it down next time." As she finished the story, she made sure to shrug her shoulders and says, "it was the sixties" :) We love working with Grace. Maybe you'll come and visit it with us sometime!
Usage

use one dropperful and rub directly on to skin. Use within 2 years for optimal herbal potency.