---
Close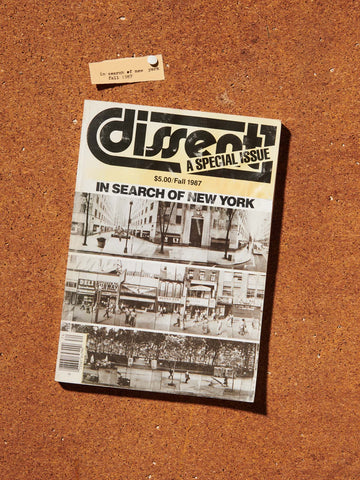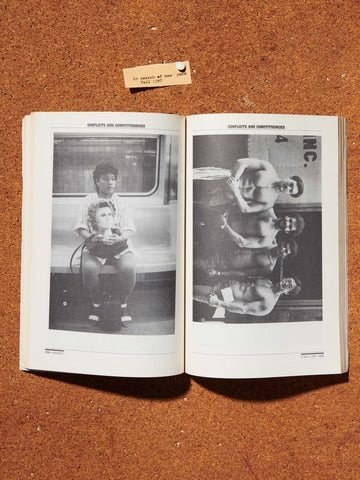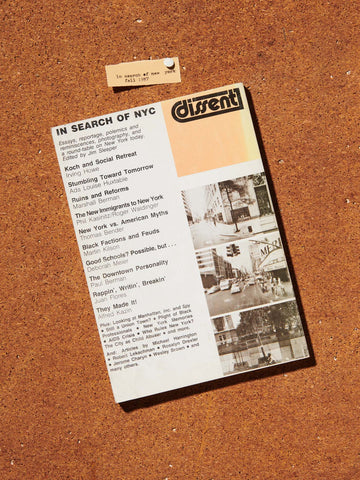 dissent - IN SEARCH OF NEW YORK
Other Oddities

one of one
1 of 1 offering.
Release Date: 1987 Published: dissent, by the Foundation for the Study of Independent Ideas, Inc.
Another one from under the dust, wiped up and ready to rock. It was 1987. Koch was mayor trying to ban bicycling on Fifth, Park and Madison ave. Bicyclists protests and his dummy idea was dead in the water. The Giants won the superbowl [sports!]. honestly, the good shit is in this book. these notes above here are just a piss pore examination of the year which is why you should consider getting this copy of the paperback. Hit more information below to see some of the actual topics covered in this 1987 edition.
pretty good but not perfect condition. that said, no conditions are perfect when you're in it, honestly. No Returns On Oddities Items. 
More information

Edited by Jim Sleeper, Irving Howe, and Michael Walzer.

Authors: Marshall Berman, Carlin Meyer, Thomas Bender, Ada Louise Huxtable, Gus Tyler, Jim Chapin, and Jo-Ann Mort.

Fall 1987

From a New York Journal Social Retreat and the Tumler -Irving Howe

Looking at Our City Boodling, Bigotry, and Cosmopolitanism -Jim Sleeper

A City Divided A Tale of Three Cities -Gus Tyler

Howard Beach–Anatomy of a Lynching -Nicolaus Mills

Minorities and Immigrants–Struggle in the Job Markets -Roger Waldinger

AIDS Crisis -Anthony Borden

The Face of Downtown -Paul Berman

Life and Games in the West Bronx -Rosalyn Drexler
Dang, looks like we're all out, sign up here if you want us to restock and be notified when more come in.