Close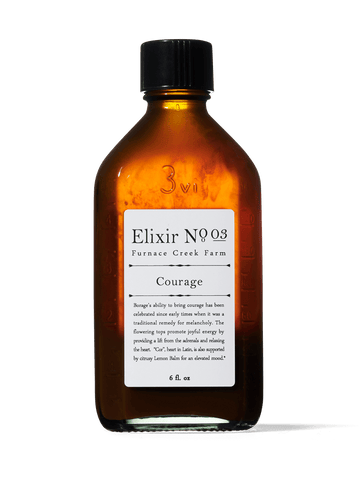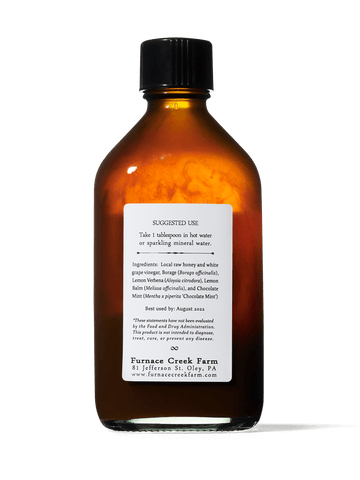 Courage Elixir
Elixirs
Focus & Clarity
Ingestible
Stress & Anxiety
TO HELP GET OUT OF YOUR COMFORT ZONE FROM THE MOMENT YOU WAKE UP—A HONEY-BASED ELIXIR TO INSPIRE BOLDNESS
FROM FURNACE CREEK FARM (Oley, PA)
Ingredients

Local raw honey, white grape vinegar, Borage (Borago officinalis), Lemon Verbena (Aloysia citrodora), Lemon Balm (Melissa officinalis), Chocolate Mint (Mentha x piperita 'Chocolate Mint')
Manufacturer/brand info

Furnace Creek Farm is a small family farm run by Grace Galanti in Oley, PA. Grace is a dear friend of EH. We met years ago at Union Square Market in New York City. Her love of plants began as a child during botany walks through a local apple orchard and her parents' farms. Nature and the outdoors have continued to inspire her ever since. She is an herbalist, skincare specialist, mother, and stargazer. Grace might not realize it because she works 100 hours a week [running a farm is HARD], but she is a wonderful storyteller as well. Like the time she told us about her mother who outran the cops in her Mustang fastback back to the farm. When the cop reached the farm, Grace's mom shouted, "you can't get me now." The cop responded, "Ma'm, just please slow it down next time." As she finished the story, she made sure to shrug her shoulders and says, "it was the sixties" :) We love working with Grace. Maybe you'll come and visit it with us sometime!
More information

Borage's ability to bring courage has been celebrated since early times when it was a traditional remedy for melancholy. The flowering tops promote joyful energy by providing a lift from the adrenals and relaxing the heart. "Cor" or heart in Latin is also supported by citrusy lemon balm for an elevated mood.

6 oz bottle
Usage

Take 1 tablespoon in hot water or sparkling mineral water.