---
Close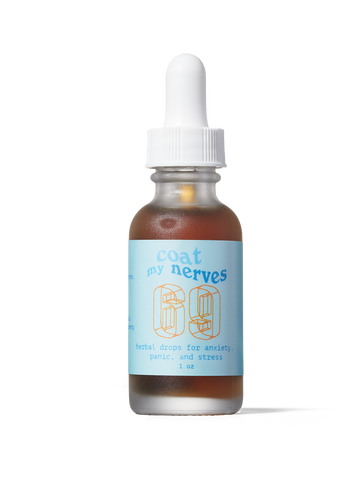 Coat My Nerves
HELP TAKE THE EDGE OFF. AN HERBAL TINCTURE FOR ANXIETY, PANIC, CIRCULAR THOUGHT PATTERNS, STRESS, AND TRAUMA
FROM 69 HERBS (Brooklyn, NY)
Ingredients

Glycerine, and 100% organic: valerian, passionflower, milky oats, skullcap, lemon balm, yarrow, motherwort, and blue vervain.
Manufacturer/brand info

69herbs is a New York-based apothecary and design project by Jade Forrest Marks. 69herbs aestheticizes a dream of collective healing by blending fantasy, faggotry, and folk herbalism. Their blends focus on trans and queer health, accessibility, and harm reduction. Their product line is fully handmade in NYC with 100% organic plants.
More information

An herbal blend to take the edge off. For anxiety, panic, circular thought patterns, stress, and trauma. Coats your nerves when they feel raw and exposed. Soothes, grounds, and brings you down from a high frequency state with gentleness.

100% vegan and alcohol-free

Usage

3-15 drops up to 3x daily. Place drops right on your tongue or they can also be taken in juice / water.
Dang, looks like we're all out, sign up here if you want us to restock and be notified when more come in.