---
Close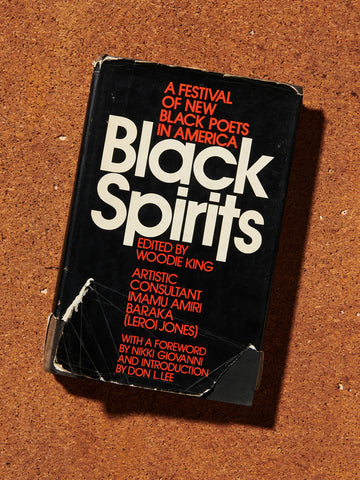 Black Spirits: A Festival of New Black Poets in America
Other Oddities

one of one
1 of 1 offering.
"This anthology, containing the work of thirty leading contemporary Black poets, emanated from a poetry festival produced by Woodie King Associates and presented at the Apollo Theater and the Brooklyn Academy of Music in New York City..." - from the books inner sleeve
Release Date: 1972 Edited By Woodie King, Artistic Consultant Imamu Amiri Baraka (Leroi Jones) With a Foreward by Nikki Giovanni & Introduction by Don L. Lee 
This book does have rips on the exterior cover.  No Returns On Oddities Items. 
More information

"The event earmarked an important development in Black poetry. Revitalized by its Black culture and its direction toward the masses of Black people, it has placed these poets in the realm of the new cultural heroes of the community alongside the Black musicians, who have traditionally represented the purest form of Black art. Under the common motif of Black social and political awareness, the poetry in this book reflects the variety in tone, intensity, and style. In it, the reader will find the soft lyricism of Mari Evans, the scalpel-wielding imagery of Imamu Amiri Baraka (LeRoi Jones), the poignancy of Norman Jordan, Keorapetse Kgositsile, the stark verse of Sonia Sanchez. However it is expressed, it will compel the reader/listener to grab hold of the galvanizing reality of Black experiences. BlackSpirts: A Festival of New Black Poets in America pulsates with the rhythms of forms. It represents the poetry of the sixties and early seventies, which has emerged spective, rather than to convention and art free, but a park of its freedom includes an urgent responsibility to the Black community, making it functional as a tool for liberation." - additional information from the book's inner sleeve